Entering the 8th month, the nutritional sources that babies receive from meals are more diverse and complete. That is why the construction Weaning menu for 8 months baby very important. It determines the development of the baby both physically and mentally. If parents are struggling and do not know how to feed their children, it is the most appropriate. Please refer to the article below.
Principles of solid foods for babies 8 months old.
When you want to add any new food to the weaning menu for an 8-month-old baby, you should note the following principles:
Each dish should be given to the baby for 2-3 days for the baby to adapt as well as for the mother to observe the baby's reaction to each food. Then continue to give your baby a new try.
Introduce your baby to 2-3 new dishes or more in the same meal for them to choose according to their own wishes.
If you want your baby to easily accept new foods, feed them when they're hungry and should give them little by little, before giving them a portion of each meal.
Weaning meals should be about 1 hour apart from milk time so that the baby's digestive system can rest. This way the baby will eat and avoid anorexia.
If the mother gives the baby solid foods according to BLW, which means that the baby will put food in his mouth, always be with him when eating. Because babies are still not really aware of how to eat, it is easy to choke. If your baby is choking, watch if he shows signs of regurgitation, put your hand in front of his mouth and tell him to let go. If the situation is more serious, the mother should perform first aid actions for the choking child immediately.
Necessary nutritional ingredients when building an 8-month-old weaning menu
When the baby is 8 months old, the nutritional needs of the baby will be higher. The minimum amount of milk a baby needs in a day is 500ml. In addition to 2-3 main meals, at this time, the mother should give the baby extra meals.
At this time, solid food has gradually become the main meal that provides a large source of energy for the baby. Weaning menus for 8-month-old babies can now add snacks with easy and beneficial foods such as cheese, yogurt, whey, etc.
In the nutrition of each meal, there must be a balance of four groups of proteins, carbohydrates, fats, vitamins and minerals. Quantification by day that mothers can refer to is as follows:
From 50 to 60 grams of meat/shrimp/fish,…
From 50 – 60g white rice
15g oil/fat.
A fairly large amount of fiber from green vegetables, fresh fruits … still needs to be pureed and crushed by the mother to be good for the baby's digestive system.
Vitamins A, D, E, C and many other micronutrients are found in different foods. Therefore, mothers should have a variety of meats as well as vegetables so that the baby is provided with adequate nutrition.
Weaning menu for 6-month-old baby to gain weight and develop well
1. Pumpkin Porridge
Material:
Pumpkin: 40g
Fresh cottage cheese: 1 teaspoon.
White porridge: 40g
Spinach: few leaves
Formula milk: 40ml (Mix according to manufacturer's instructions)
Making:
Boiled/steamed squash and spinach then grated or minced.
Put the prepared ingredients into the porridge pot, mix well and then feed it to the baby while it is still warm.
2. Grilled Cheese Bread Porridge
Material:
Fish or white fish: 10g.
Spinach: 5g
Carrot: 5g
Onion: 10g
Ready-to-drink formula: 80ml
Sandwiches: 2 slices.
Cheese powder: 1 teaspoon
Making:
Shredded bread removed from the edges, put it in a mixing bowl with 60ml of formula.
Cooked and chopped fish and vegetables then mixed with the remaining 20ml of milk and poured over the bread bowl. Sprinkle a little cheese and put in the oven when the bowl is golden, take it out and give it to your baby to enjoy.
3. Creamy Chicken Asparagus Porridge
Material:
White porridge: 20g
Minced chicken: 15g
Asparagus: 1/2 plant
Onion: 15g
Canola oil: 1/3 tsp.
Formula milk.
Making:
Diced onions and asparagus into small pieces. Depends on your baby's ability to eat raw. With the weaning menu for an 8-month-old baby, it is not necessary to puree or chop the foods too much.
Put the oil in the pan, then add the oil and wait until the oil is hot, then add the chicken, onion and asparagus in turn, until cooked. Add 80ml of formula and bring to a boil.
When the pot of meat boils for 5 minutes, add white porridge to the island, wait for it to boil again, then turn off the stove.
4. Shrimp and vegetable soup
Material:
Shrimp: 10g
Carrot: 5g,
Sweet corn: 5g
Ready-to-drink tapioca powder: 10ml
Egg Yolk: 1/3 of an egg yolk
Green onion: 1 bit
Onion: 5g
Making:
Carrots, sweet corn, finely chopped onions.
Shrimp cleaned, steamed and crushed.
You can use vegetable juice or bone broth to make soup broth. When the broth boils, add the vegetables and cook until soft, then add the shrimp.
Next, slowly pour the egg yolks into the soup, stirring while pouring.
Finally, pour in the tapioca flour, just like when pouring eggs, slowly pour in and stir so that the dough does not clump.
You can add more or less than the prepared amount depending on whether you want the dish to be thicker or more liquid.
5. Beef chayote porridge
Material:
Mango fruit: 10g.
Beef: 10g
Rice: 15g
Green beans: 5g
Making:
Rice and green beans should be soaked before cooking to save time and cook quickly. After soaking and cleaning, put in the pot to simmer.
Beef and chayote minced and pureed.
When the porridge is cooked, add the meat first and cook it, then add the vegetables and seasoning just enough for the baby.
Weaning menu for 6 months baby in 30 days in Japanese style
Day 1: Porridge, salmon and sweet corn
Making:
Salmon file and then rub a little lemon then steam it with a little lemongrass will not be fishy. Use a fork to remove the bones and shred the meat.
Finely grated sweet corn, crushed and cooked.
White porridge in the weaning menu for an 8-month-old baby should be cooked at a ratio of 1:5 or according to the child's needs.
Mothers can give separate dishes to each small bowl or put them together in a bowl for the baby to eat and feel the difference of each food.
Day 2: Porridge, steamed shrimp and spinach.
Making:
Shrimp with shells and back only steamed and finely chopped.
Spinach finely chopped or minced and put in a steamer with water. You can add a little seasoning to stimulate the baby's appetite.
After the white porridge is cooked, add half a teaspoon of walnut oil and stir well to provide both powdered sugar and very good fats for the baby.
Day 3: Porridge, mackerel, and pumpkin.
Making:
Sliced ​​squash, steamed and mashed, or left to your baby to eat.
Mackerel cleaned and steamed. Then remove the bones and tear into small pieces for the baby to eat. Mom can make mackerel soup for the baby to eat, it will be better. However, do not eat mackerel too much because this is a fish that contains some mercury due to living in deep water.
After the porridge is cooked, add the pumpkin and fish to the island, and finally add a little walnut oil. You can keep fish and vegetables separate to see the baby's reaction when eating mackerel for the first time.
Day 4: Porridge + walnut oil, chicken, squash/zucchini
Making:
The mother chicken chooses the lean breast or thigh meat, then folds it and grinds it into small pieces.
Squash or zucchini cut into pieces, boiled soft or steamed will retain the natural sweetness of the vegetable. Then each tool or small beam.
White porridge cooked at a ratio of 1:5 to expand the seeds without grinding.
Arrange the dishes in bowls and let your baby enjoy.
Day 5: Porridge, pork, carrots.
Making:
Pork should choose lean shoulder parts that will be tender and not dry. Then mince and simmer.
Steamed carrots are soft and finely chopped.
Cook white porridge or warm it up with frozen porridge and mix it with half a teaspoon of baby oil.
Mothers should cook porridge before cooking the above 2 ingredients to ensure that the food is always warm when the baby eats.
Day 6: Porridge, steamed salmon and chayote
Making:
Mothers can make steamed salmon as above or use salmon fritters for babies to eat.
Su Su is also preliminarily processed like other vegetables.
Day 7: Oatmeal porridge, salmon
Making:
Oat mother for just enough water to simmer the porridge to boil, stir gently until the consistency is reached, then turn off the stove.
Steamed salmon and then shredded it to go with the porridge. You can add some walnut oil or ground vegetables.
Day 8: Porridge, eel, rambutan.
Making:
If you only cook for the baby to eat, you should ask the seller to prepare the meat for you. Then use salt to squeeze evenly to remove the oil, then bake over the fire for a more fragrant and beautiful skin color. Steam or boil until the eel is cooked, then remove and pound it, then add it to the porridge. Seasoning as needed.
Day 9: Oatmeal, eel and broccoli porridge.
Note: Broccoli is very quick to ripen, so remember to keep an eye on the time it takes to lose the nutrients of the vegetable.
Day 10: Oats, yams, pork
Making:
Mother's oat porridge should cook more dense.
Sweet potatoes cut into small pieces, steamed and then mashed.
Minced pork and simmered.
Day 11: Steamed eggs, rice flour
Making:
Eggs only take the yolk then add 10 ml of breast milk or pre-mixed formula. Then stir well to let the eggs rest for a while, then bring them to steam in a water bath.
In the weaning menu for an 8-month-old baby, when eating eggs, the mother should only give the baby the yolk.
Day 12: Oatmeal porridge, minced beef, grated carrot
Day 13: Oatmeal porridge, minced bok choy, beef
Day 14: Oatmeal porridge, red snapper, chayote
The baby is almost halfway through the 8th month, so please increase the coarseness of the food.
Oatmeal porridge should cook thicker.
Red snapper can be steamed or cooked directly and then cut into small pieces to eat.
Su Su cut into small pieces and then steamed until soft.
Day 15: Oatmeal porridge, steamed eel and bok choy
Day 16: Oatmeal soup with chicken and carrots, crab vegetables.
Day 17: Oat cheese, beef and crab vegetables.
Day 18: Beef carrot potato porridge.
Day 19: Oatmeal chicken soup with mushrooms, sweet corn
Day 20: Noodles with young ribs, carrots.
Mothers should choose baby noodles or homemade organic noodles is best.
Marinate the ribs, then remove the small meat and add soft cooked carrots, then add the noodles to cook.
This will be a great meal change dish in the weaning menu for an 8 month old baby.
Day 21: Kate porridge with chicken and orange juice.
Day 22: Pumpkin eel porridge
Day 23: Pumpkin frog porridge
Frog is a nutritious food that an 8 month old baby can eat. Mom often changes the baby's meal with this delicious dish.
Day 24: Crab and amaranth porridge
Day 25: Young tofu egg porridge
Day 26: Sweet potato snakehead fish porridge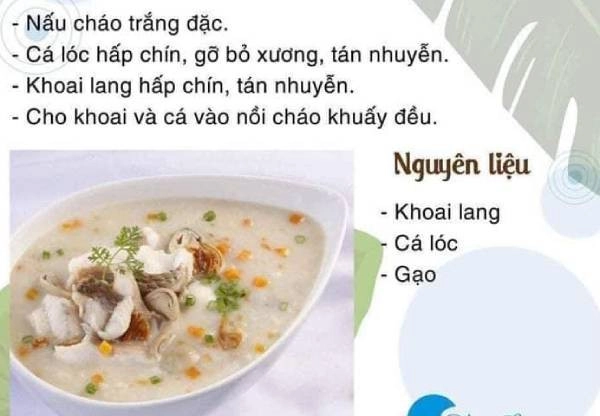 Day 27: Corn porridge/sweet corn porridge
Day 28: Porridge with beef, spinach, lotus seeds.
Day 29: Shrimp porridge, okra.
Day 30: Porridge with eggs, cabbage, fried tomatoes
Standard timetable for 8 month old baby weaning
To train your baby to have a reasonable family routine, you should have a schedule of solid foods for your 8-month-old baby. Mothers can refer to the standard weaning time for babies as follows:
Give your baby 2-3 main meals a day and alternate snacks. Children should eat 3 meals as a family meal.
Feed your baby before giving him milk. Or feed your baby 30 minutes to 1 hour after drinking milk.
Eat enough, do not force children to eat. The portion size can be estimated by the baby's fist.
Hopefully, the list of weaning menus for 8-month-old babies above will help mothers prepare many delicious and nutritious dishes to help their babies grow healthy every day. Mother should remember the principle of no TV, no phone, no pressure, let the baby eat according to his needs so that the weaning meal will not tear.